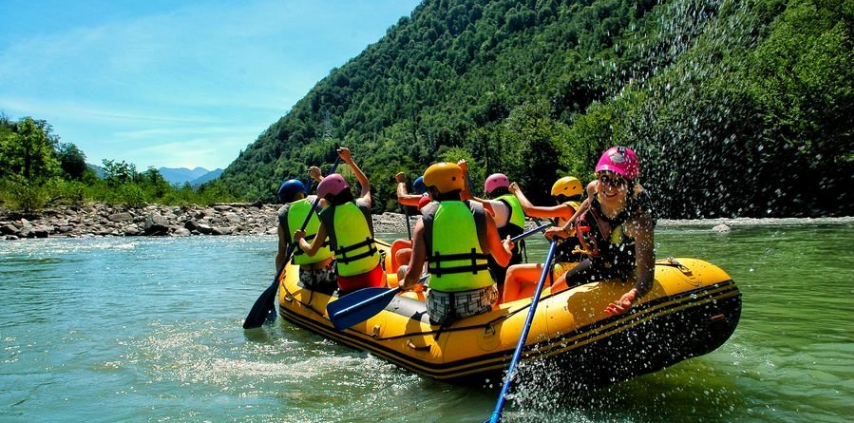 Many tourists go to Batumi to swim in the Black Sea and sunbathe on a beach. But besides the aforementioned rest, fans of extreme sports will find other entertainment here that will appeal to them. We propose to consider the most interesting types of extreme tourism in Batumi, which you can try this summer.
1. The Argo Cableway. Every tourist has the opportunity to see the city from a birds eye view. The starting point of the trip is located on Gogebashvili Street opposite Goodwill Supermarket. The length of the cableway in Batumi is 2.5 kilometers. 9 modern cable cars are at a height of 50 meters. Each of them accommodates for up to 6 people. It is important to bring water and hats – it will be hot there. The price of a one-way trip for adults is 7.5 GEL, and for children is 2.5 GEL.
2. Paragliding. If you have a desire to paraglide, but have fear not to master this occupation, there have organized flights with a professional instructor from Russia in Kobuleti, which is located in 20 kilometers from Batumi. The price of pleasure: 10 minutes – 190 GEL, 20 minutes – 350 GEL, 30 – 490 GEL. For more information visit website toors.co. Bright emotions are guaranteed!
3. Parasailing. Thanks to this kind of entertainment you can see the picturesque seashore, taking off on a parachute above the sea. Price is 80 GEL. Address: Gogebashvili street, 5.
4. Hang-gliding. It is possible to fly on this device for 100 GEL. In the Park of Miracles, everyone is offered to experience their will and character in this way, enjoying the magical views around.
5. Flyboard. On the coast of Batumi, you can also be offered this kind of extreme, which is flying on a specially designed board, which takes off into the air due to the reactive force of the water flow created by the jet ski to a height for about 10 meters. This entertainment is organized only in summer. The guys speak three languages ​​- Russian, Georgian, English. For 5 minutes the price is 50 GEL, 10 – 90 GEL, 15 – 130 GEL.
6. Rafting. Rafting on mountain rivers on inflatable boats (rafts), that accommodate 2-6 persons. One of the most popular routes is along the Ajaristskali River. The route starts in Makhunceti village, which is located in 30 kilometers from the center of Batumi. The length of the route is 2.5 – 5 kilometers. The rafting time takes 40 minutes. Price for 1 person is 20 USD; groups for up to 3 persons – 30 USD; if the group is more than 3 persons, the price for 1 participant is 10 USD. More information can be found on the website getur.ru.
7. Kayaking. One of the types of water tourism where kayaks (special boats) are used. Exciting extreme is not for the faint-hearted. About organization of kayaking tours on different routes you can read on the website getur.ru.
8. Trekking tours. This is a kind of long-term hiking, most often in the mountains or forests with overnight stops in certain places. The company Trip Georgia helps to organize this kind of rest. Similar tours from Batumi are popular not only among tourists, but also among local residents. Exciting adventures are guaranteed.
9. Diving. Scuba-diving with aqualung, mask and flippers will bring unforgettable pleasure to everyone who see the magical world at a depth of 10 meters. In Batumi there is a diving center, which is located at Andrei Pirvelvodebuli Street, 28. The center has professional instructors which speak several languages ​​- they will help you to make the right dive and feel the attraction of this art. The price of the dive for 1-2 persons is 70 GEL.
10. Sea entertainment. Among the marine entertainment it will be available riding a sea scooter (75 GEL – 15 minutes), a banana or a tablet (for 5-15 minutes the price is 5-10 GEL). Thus you can combine passive and active rest.
After any extreme you will surely get tired. Whatever you do and wherever you are, our cozy Rock Hotel First Line is always waiting for guests! We are located in 50 meters from the seashore, at 15-A, Sheriff Khimshiashvili Street, on the 9th floor! After an extreme rest, you will even more keenly feel the comfort and warmth that we sincerely try to give every day!
https://rock-hotel.org/wp-content/uploads/2019/03/основна-1.png
568
854
Iryna Ryabchenko
https://rock-hotel.org/wp-content/uploads/2018/02/rock-hotel-logo.png
Iryna Ryabchenko
2019-03-22 12:57:25
2019-03-22 12:57:28
Extreme tourism in Batumi in summer