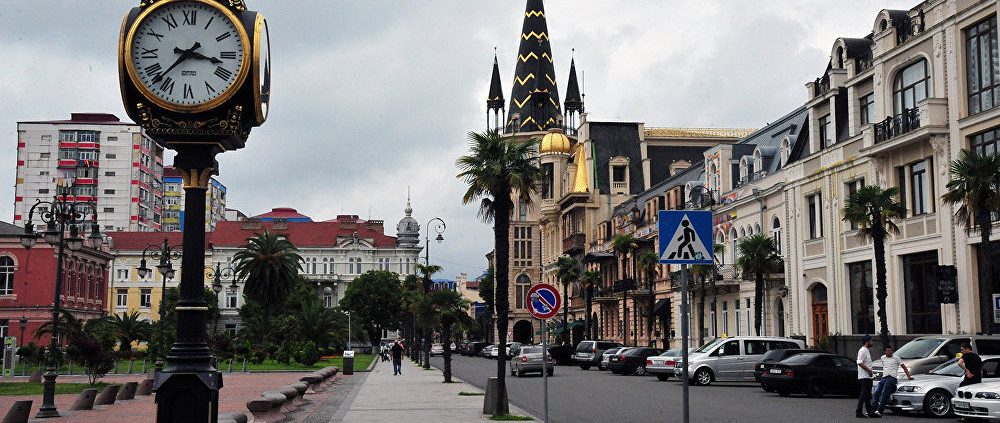 Today we will talk about what to do in Batumi in summer. Many people limit themselves to rest on the beach, but it's so boring just to swim and sunbathe. Therefore, before you come to this wonderful city, make a list of things that you want to do, and we'll throw some more ideas.
Start morning with coffee. One of the most popular Batumi places to visit for this ritual is The Restaurant Sanapiro. They make here delicious Turkish coffee. The main feature of the place is its hundred-year history about which you should always ask among the staff. Atmospheric coffee shop once belonged to the cute old woman Aigusha, who works here to a ripe old age.
Communicate with the local people. Remember, in order to completely immerse in the atmosphere of Batumi, you need not only to see all the sights, try national dishes – you need to talk with people who live there. This will add a special character to your trip. This people has a special hospitality and love with women, so be careful. But seriously, as many compliments from men as in Batumi, you probably will hear nowhere.
Walk till the morning around the night city and meet the dawn. At night  Batumi has a magical atmosphere: bright lights are everywhere, there are attractions, there are 24-hour cafes where you can enjoy a delicious coffee with dessert or a tasty dinner in a pleasant atmosphere. After that, you need walk along the embankment and meet the dawn with the sound of sea waves.
The cableway. You can visit the observation deck and just admire the beautiful view from a height of about 50 meters. For detailed consideration of the city sights you can rent binoculars (cost is 1 GEL). But it's still better to ride in a modern cab and enjoy the beauty around in motion, feeling lightness and certain extreme (the cost of one-way trip for adults is 7.5 lari and for children is 2.5 lari).
Visit the Botanical Garden. In this stunning place even in summer you will feel the presence of spring – around reign fragrances from the most diverse plants and flowers. Here rather than elsewhere you can hide from the scorching sun and enjoy the freshness. You will see eucalyptus trees, Himalayan pine trees, palm trees with bunches of bananas, fragrant magnolias, bamboo groves, strawberry trees. In the middle of the garden there is a small lake with golden fish and turtles.
Visit the villages that are located next to Batumi. Not far from the city there are a lot of interesting places – Ureki, Sarpi, Magnetiti, Kvariati, Gonio, Mahuntzeti. About the special features of the beaches you can read here. There are interesting sights and  specificities – devote your time to them.
Look at the invasion of seagulls in the port. We would like at first recommend feeding seagulls, but judging by how many these birds arrive, it's even frightening to imagine how to feed them. There is a threat that during this they can simply peck you. It is difficult to imagine how the seamen work there.
Go to the casino. Information is not for gamblers, but for people who want to spend an evening with minimal expenditure and feel the atmosphere of chic that you see more often in movies. The main thing here is to control your desires and understand why you came at all. The Batumi best casinos for their customers offer free drinks and the buffet table. Among them there are the Golden Palace (located near the Neptune Fountain) and Leogrand Batumi. It is recommended to play at slot machines – there you will not lose much. Do not deny yourself this pleasure – to make the little scam.
Sports at the seaside. For sports fans and those who do not want to put on weight, we suggest early morning yoga at the seaside or going a run for your favorite music. This is a great way to burn extra calories and enjoy the sea breeze – combine business with pleasure.
Go to the disco in the club Seaside. If you go on vacation with group of friends, we advise you to visit the Seaside nightclub, which is located on Primorsky Boulevard. A beautiful architectural building, well-organized discotheques, where you can often see famous stars such as Culio, Mojo, Snap.
Taste unique Georgian alcoholic drinks. Be sure to visit to the "Chacha time" bar for tasting Georgian grape vodka chacha.This drink is qualitative and delicious particularly in this place. Also Batumi is famous for good beer which is based on clean water – in any case you need to try.
To visit the Singing Fountains Show. Every evening at 9 o'clock on Ardagan lake there is an unforgettable show of dancing fountains with beautiful special effects. During the show night Batumi play out in fresh colours. Enchanting show come to see everybody – young and elderly people – the real atmosphere of the holiday reigns.
Enjoy real Adzharian khachapuri. This flour product is one of the favorite dishes of tourists in Batumi. A delicious bun with cheese and eggs is thus cooked only in Adjara. Khachapuri can be bought on every street corner. We advise you to go to the end of the embankment, take place near  the airport, eat pastry, wash down with Georgian wine and watch the flight of airplanes.
Visit the Alphabetic Tower. There is a breathtaking view. First of all we recommend visiting a revolving restaurant, where you can organize the romantic dinner. A great place to make a proposal to a girlfriend at an altitude of about 130 meters.
Finally throw a coin in the fountain to return to the wonderful fabulous Batumi!
https://rock-hotel.org/wp-content/uploads/2018/07/sputnik-georgia.ru_.jpg
541
1000
Iryna Ryabchenko
https://rock-hotel.org/wp-content/uploads/2018/02/rock-hotel-logo.png
Iryna Ryabchenko
2018-07-26 10:58:47
2018-12-19 14:47:52
15 Batumi things to do